The Ranges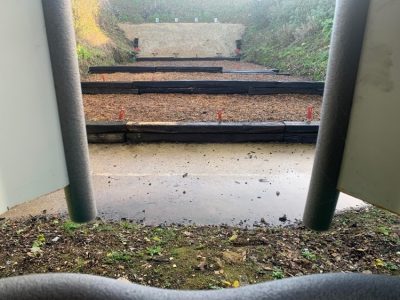 The 20 yard indoor range has been stripped back with a new back stop to provide 6 lanes for air rifle, air pistol and archery. The range has been rewired with new specialist lighting and CCTV so you could sit in the café and watch your child have a lesson from one of the trained instructors. New ambidextrous shooting tables provide for a comfortable experience for left or right handed shooters. It has been completely repainted and remarked out.
The 60 yard range has had all the internal rooms taken out to create a large open plan shooting point room with plenty of space for preparation and repairs away from the shooting positions. It has been completely rewired with new lighting and CCTV. It was repainted with new shooting tables and chairs.
The 25 yard multi caliber range has been improved with a new shooting building to replace the old wooden damp building. With new firing point tables. It is really smart but the best feature is the new 10yard zeroing point
The 100 yard multi caliber range has been completely rebuilt. The back stop was completely stripped back and rebuilt. The floor of the range has had drainage put in and we have built a new firing point building with prone and seated firing positions. With new fences on the vehicle access points and new signage it is looking really smart.
All the ranges have been designed with wheel chair access in mind to make them as accessible as possible.
The air soft kill rooms have been rebuilt and a new attack sense system obtained.
The clay club have also got new shooting stands. we have also acquired several new automated traps.