Experience sessions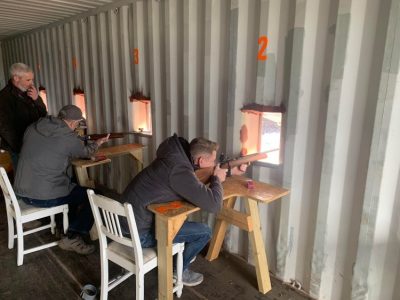 SHOTS has developed several shooting experience packages from air pistol and air rifle to airsoft and rim fire or even clays. These are all two hour activities that come with a relevant snack, drink and tuition. You can even mix and match experiences to give yourself a day of different activities. You could also ask about a gift voucher as a present. For more info contact the office. Anyone under 18 must be accompanied at all times by an adult of 21 years or older.
Air Gun: Cost £45
This is a two-hour experience which is run in our 20-yard indoor range. This is great for someone who has little or no experience and is looking for a fun activity or even a new hobby. It would also be great for someone who would like a little advice to improve. You will start by having a short induction in range safety and a demonstration in how to operate our club guns. You will be accessed by one of the qualified instructors to set you up and then you will have about an hour of shooting. The aim of this is to help you group your shots on the target. After a short break we will bring you back for the second hour and do some relaxed fun competitions.
Rim Fire: Cost £60
This is a two-hour experience. This will be on our 25-yard multi calibre range. It will be a 50-shot experience based on perfecting your skills. This is perfect for someone who would like to experience a rifle with a bit more power than an air rifle. This is better for someone who has done some shooting before and is looking for the next step in shooting.
Clay Pigeon: Cost £80
This is a two-hour experience. This will be a 50-shot round on our clay area. This will include several different stands so you get a true feeling of shooting different targets. We can cater for a true novice with no experience or just someone who would like to get a little better. Our instructors will be happy to walk you though everything you need to know or bash out some of those bad habits.
Tank Driving: Cost £75
This is a half hour driving experience. you can also do an hour experience if you would like a little longer.( £149 )
Tank driving is a book in advance experience which is run once a month, generally on the third Saturday of the month. Other times are available for group bookings, stag do's and corporate events. The vehicle is a FV432 MKll which has been used in the British army for many years.
Due to the dimensions of this vehicle there are some restrictions. the minimum height to drive is 4ft 6" the maximum is 6ft 8". The maximum weight is 20 stone. Drivers must be 18 or over and the minimum as a passenger is 10 years old. For any other info ring and ask for Matt, Graham or Bobby
All prices listed are price per person. There is the option to mix and match different experiences and make a day of it for an individual or for a company event. For more details ring and ask for bobby.